Heated Floor Systems for the Denver Area
About Radiant Floor Heating Systems
Denver residents are discovering the superb comfort and convenience of radiant floor heating systems. With its uniquely rich warmth, energy efficiency and maintenance free operation, radiant floor heat is rapidly gaining popularity among homeowners in Colorado and throughout the U.S. The systems can be used as the primary heating source, or as many Denver homeowners prefer, as a supplement to the home's existing heating source.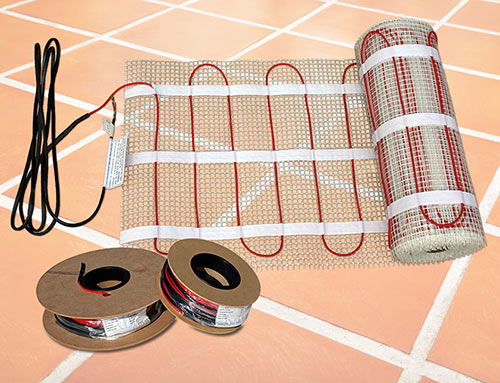 Two different technologies are used to produce radiant heated floors: Hydronic and electric. Hydronic systems are water-based systems. They feature flexible tubing that is used to carry specially treated water that has been heated by a boiler. A series of pumps circulates the water through the closed loop of tubing.
In addition to offering hydronic systems, Warmzone carries the industry's most popular electric floor heating systems. Electric heated floors use thin heating elements that are usually installed on the subfloor, directly under the surface of the floor. However, in addition to heating elements that are installed over the subfloor (new construction or remodeling), Warmzone also carries systems that can be installed to heat existing floors. If you can access the floor joists from below, you can staple up thin RetroHeat heating elements between the floor joists and then place batt insulation over the heating element to direct all the warmth upward to the floor. This is an affordable solution that allows you to enjoy radiant heat without having to tear up your current flooring.
Warmzone carries one of the largest selections of the industry's most trusted electric floor heating systems. Some of the most popular floor warming systems are listed below:
ComfortTile
The popular ComfortTile radiant heat system features thin heat resistance cable that is commonly used to heat a wide variety of floor surfaces, including tile, marble, slate, laminates, hardwood, and even carpet. The cable carries one of the industry's best warranties (25 years) and is also used with other systems such as the Prodeso® membrane and HeatShield insulation panels.
The twin-conductor heating cable is available in mats or on spools. The mats consist of heat cable that is pre-spaced and secured to a flexible mat with an adhesive backing that can be conveniently secured to the subfloor. The mats make installation quick and simple, and ensure that the cable is properly spaced. Each mat is pre-terminated for use with 120 and 240V, and heats an area 24-inches wide.
The cable off the spool is ideal for installing in custom shaped areas. Cable "strapping" is provided with the cable so that it can be secured and spaced to the subfloor. The floor heating cables have ground fault (GFCI) protection and emit no measurable electromagnetic fields (EMF), and CT systems come complete with a GFCI protected thermostat. All sizes and adjustments of cable spacing and coverage can be made on-site.
FilmHeat
FilmHeat is a unique floor heating system that features a heating element thinner than a credit card (0.16-inch thick) that provides moderate, regulated warmth for floating floors without the need for mortar. The heating element is particularly well suited for laminate surfaces. Because the element is so thin, it requires no floor buildup, and it can be cut on site. The FilmHeat floor heating system is easy to install and has proven to be a favorite among homeowners. The system consists of connection materials and an advanced digital thermostat that includes a 16-amp GFCI breaker and floor sensor for accurate programming.
In-Slab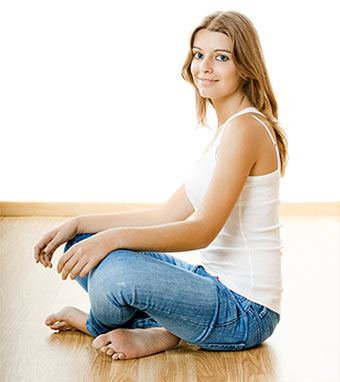 The In-Slab heat cable is designed for the rigorous demands of installation in concrete slabs. The heat cable is thicker than most, but provides a very effective and efficient means for heating basement floors and concrete slabs. The cable has a protective metallic shield and is waterproof, so it is safe for use in both wet and dry applications.
Concrete slabs provide a very efficient means for heating floors. The concrete retains warmth well after the heating system has been turned off, so the In-Slab floor heating system is a particularly effective, energy efficient option for heating basement floors. The cable carries a 10-year warranty.
FoilHeat
FoilHeat features thin fluoropolymer insulated heating cables that are sandwiched between two layers of specially reinforced aluminum foil. This system is primarily used for heating laminate, engineered wood, glued hardwood and other floating floors. The advantages touted by FoilHeat include ease of installation, rapid response time, and uniform heating.
State-of-the-art radiant heat thermostats are also offered with Warmzone's industry leading radiant heat solutions. The advanced thermostats range from simple on/off controllers to smart, programmable TOUCH and TOUCH WIFI thermostats (with 7-day programmability). These thermostats provide precise control and energy efficient operation.
Warmzone also maintains a network of radiant floor heating installers in the Denver area. That way we can recommend a favorably reviewed installer with experience to install your system. For more information about the many radiant floor heating options available, call us today at 888.488.9276.